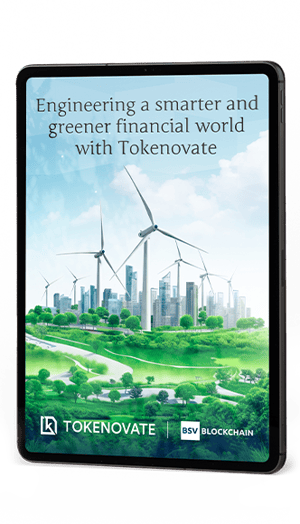 Engineering a smarter and greener financial world with Tokenovate
This eBook investigates BSV blockchain technology and its profound impact on the ESG landscape. From reducing carbon footprints to promoting ethical supply chains and enhancing corporate governance, blockchain offers a multifaceted approach to addressing the key pillars of ESG.


Tokenovate, a UK-based financial services technology company, aims to address these issues by providing distributed financial market infrastructure, and smart legal contracts, enabling programmatic lifecycle event management of the pre-trade to post-trade workflow for OTC and exchange-traded derivatives, including Voluntary Carbon Credits (VCCs).


Finally, we will explore the fusion of blockchain and ESG, and detail some of the other powerful use cases for Tokenovate and the BSV blockchain which can drive transparency, accountability, and sustainability across various industries.
Complete this form to receive your order of your copy: